Regular price
£54.99 GBP
Sale price
£42.99 GBP
Unit price
per
Sale
Sold out
Do you like your espresso to have a little bit of crema? Of course you do. Luckily for you, the Italians do to. For centuries, traditional Italian coffee has been made in a stovetop coffee maker like the Bialetti Brikka. The kitchen must-have uses the heat from the stove to evaporate water in the base, forcing steam through perfectly ground Italian coffee to produce a creamy espresso-like drink.
Delivery Information ↷
View full details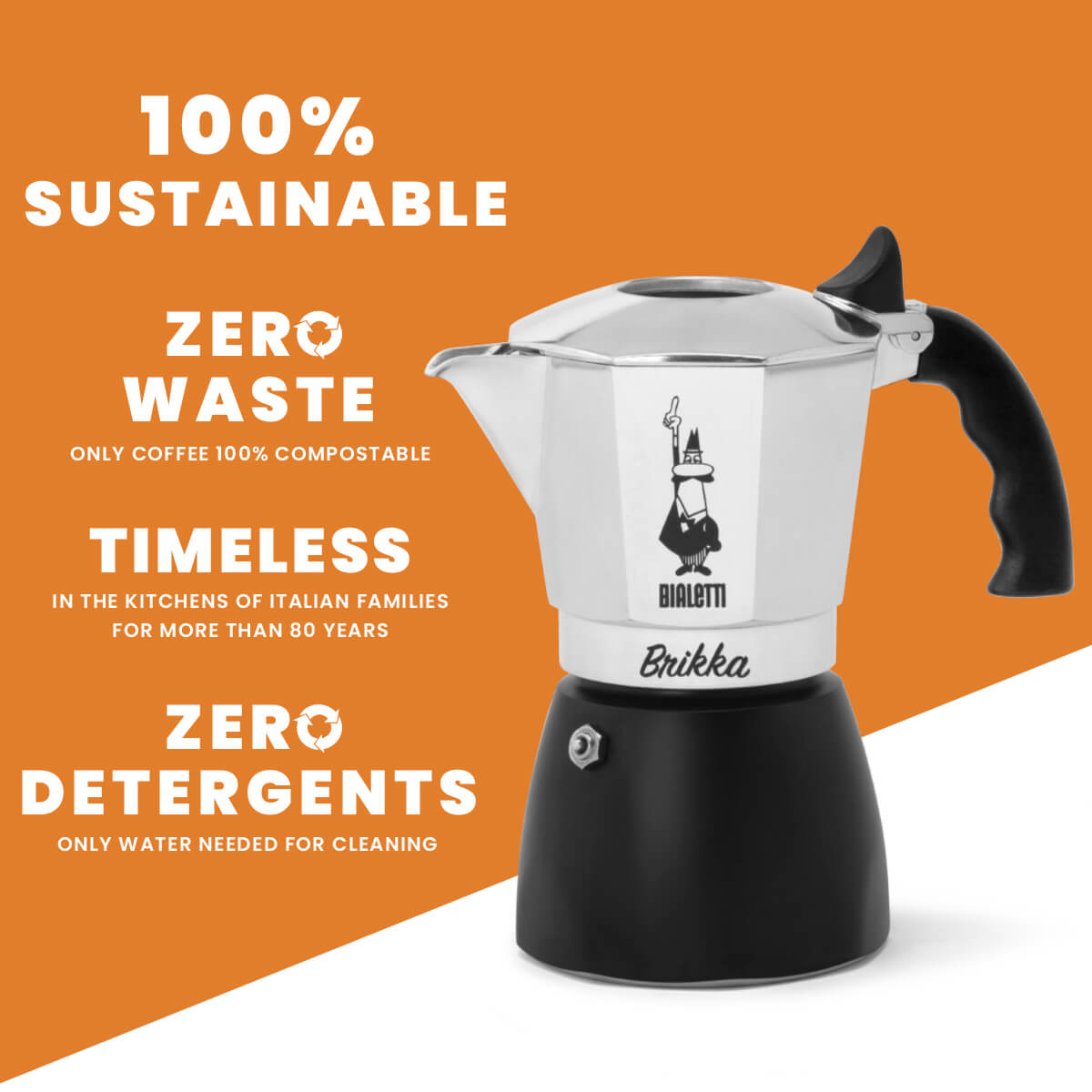 Shipping
Brew Italia Delivery Information

Brew Italia are the official UK partners of Bialetti, offering the largest collection of stovetop coffee makers, Italian roast coffee and Bialetti's accessories.

We currently do not offer international shipping on Brew Italia.

UK Delivery Information:

48hr Royal Mail Standard Delivery - £3.95
FREE 48hr Royal Mail Standard Delivery - Orders of £40 or over
24hr Royal Mail Tracked & Signed - £5.95


Orders placed after 1pm will be dispatched on the following working day. Any orders placed over the weekend or bank holiday's will be dispatched the next working day.
Collapsible content
FULL PRODUCT DETAILS

At Brew Italia, we're thrilled to introduce you to the Bialetti Brikka, a coffee maker that bridges the gap between home brewing and the true Italian espresso experience. Crafted with precision and heritage, the Brikka brings the barista's touch right to your kitchen, offering intense, full-bodied espresso with a luscious crema that rivals your favorite cafe. Dive into the heart of Italy's coffee culture with each cup you brew.

Technical Mastery for Unparalleled Results:

The Brikka's innovation lies in its silicone membrane technology, harmoniously blended with classic moka craftsmanship. This ingenious combination ensures that every cup mirrors the robust intensity and lasting creaminess of a cafe-brewed espresso. Experience the rich, aromatic embrace of a genuine Italian espresso, all from the comfort of your home.

Safety, Convenience, and Authenticity:

Bialetti's exclusive patented safety valve is a testament to their commitment to quality. Not only does it guarantee your safety, but it also ensures your Brikka remains effortlessly clean and maintenance-friendly. The ergonomic handle not only enhances the product's design but also makes it a joy to use – every coffee-making session becomes a delight.

A Symbol of Excellence:

The iconic 'L'Omino,' the little man, etched onto the Brikka is a symbol of Bialetti's unmatched quality and authenticity. It pays homage to Renato Bialetti, the son of Alfonso, the inventor of the Moka. With the Brikka, you're not just making coffee; you're holding a piece of history in your hands.

Versatile and User-Friendly:

The Brikka is ready to join you on your culinary adventures, compatible with gas and electric stovetops, even propane camping stoves. And for those with induction hobs, there's a Bialetti adapter available. Versatility meets convenience in a perfect marriage.

Brew, Enjoy, Repeat:

Crafting your ideal cup of espresso is a breeze:

Fill the heater with cold water using the graduated measuring cup provided.
Insert the funnel filter into the heater.
Fill the funnel filter with Moka ground coffee, without pressing down, ensuring no coffee powder is left on the rim.
Screw the upper part onto the heater, tightening it securely but gently.
Place the coffee maker on your heat source, ensuring it's within the safety limits.
The unique Brikka puff will signal the beginning of froth formation.
Ensure the froth is complete in the upper part.
Pour the coffee into your cups, evenly distributing the coffee and the velvety crema.

Care as Easy as Brewing:

Cleaning the Bialetti Brikka is a breeze. Just rinse it with water after use—no need for detergents. Avoid the dishwasher to preserve your Brikka's integrity and the pure taste of your coffee.

Experience the true essence of Italian espresso at your fingertips. Join the Brew Italia family and welcome the Bialetti Brikka into your daily ritual. Brew with authenticity, share with friends, and savor every cup, starting right here.
TIPS, TRICKS & FAQS

How to Clean Bialetti Brikka

To clean the Bialetti Brikka, ensure the coffee maker is cooled down; this can be sped up by rinsing it under cold water.

Once cooled, simply unscrew the top and tap out the coffee grinds. Blowing on the end of the funnel is a great way to get the grinds out more easily.

Rinse everything thoroughly under water.

Make sure everything is dried if you want to avoid any oxidisation of the aluminium and clean out the burnt coffee.

For prolonged usage, it's best practice to store the lid and base separate.

Do I need to use any soaps or chemicals to clean my Brikka? 

The Bialetti Brikka is a 100% sustainable coffee maker designed to be cleaned using only water. Any soaps or chemicals may damage the paint and longevity of your product.  

What is the difference between a Bialetti Brikka and a Moka Express? 

There are a few differences between the Bialetti Brikka and the Moka Express, the main being the brewing time for each. In the classic Moka Pot, it takes roughly 10 minutes to brew a cup of espresso whilst Brikka is significantly faster, brewing a cup in just under three minutes. The upgraded Moka Express has a faster speed of brewing, taking roughly four minutes to brew. 

The crema is also a more rich coffee foam on your brew when made with the Bialetti Brikka compared with that from the Moka Express. 

Another slight difference between the two coffee makers is that the Brikka delivers a slightly stronger coffee, giving more caffeine than that from a Moka Express.  

The taste is also affected by the two coffee makers; depending on each one, a different flavour profile will be presented. 

What type of coffee do I need for a Bialetti Brikka? 

For your Bialetti Brikka, the best coffee to use is the Moka Ground Coffee – Bialetti sell their own; this is slightly coarser than an espresso grind but finer than a filter grind in a cafetiere.  

For a better brew, it is recommended to use whole bean and grind fresh using an electric coffee grinder that's calibrated for espresso.  

How much coffee does a Brikka 2 cup make? 

The Bialetti Brikka 2 cup is designed to brew 70ml (2oz) of coffee, with a boiler capacity of 100ml, using 15g of ground coffee. This is a similar ground coffee/water ratio to that of a real espresso. 

How much coffee does a Brikka 4 cup make? 

The Bialetti Brikka 4 cup has a 200ml boiler, able to brew closer to 160ml of espresso. 

How long will I wait for my Bialetti Moka Timer to be delivered? 

All of our orders are sent via Royal Mail Tracked 48 hour delivery, with free delivery when you spend over £35. Any orders before 1pm Monday-Friday qualify for same day dispatch. Orders placed after 1pm, or placed on a Saturday or Sunday, will be dispatched the next working day.  

Please note: We offer an upgraded 24 hour delivery. For this option, simply select at checkout. 
SHIPPING

Get free standard UK delivery on all orders over £40.

Currently, we do not offer international shipping.

-------------------------------------

Standard Delivery (Evri 2 -3 days) - £3.95

Express Delivery (Royal Mail 24 hour) - £5.95

-------------------------------------

Orders placed by 1pm Monday - Friday will be dispatched same day. Orders placed after 1pm, on weekends or bank holidays will be dispatched the next working day.
BREW ITALIA REWARDS

Brew Italia Rewards is our way of showing appreciation. You'll earn points for activities on our site, like referrals and purchases. You can use them to earn discounts off purchases, so the more you collect the more you save. Create an account to start earning points today.
RETURNS, REFUNDS & EXCHANGES

At Brew Italia, we try to provide as much information as possible so you get the product that is right for you.

If you don't feel the product you receive is right for you, don't worry, just send it back. All we ask is that it is unused and in the original packaging.

Simply log in to your account using the icon on the top right to access your order and request a return. We aim to respond to all requests within 2 working days.
Amazing and much faster than the hob
Great piece of coffee making kit. The timer is fab and no over boiling like always happened on the hob
More We Think You'll Love →
Regular price
Sale price
£34.99 GBP
Unit price
per