Nothing compares to authentic Italian coffee. The rich intensity of the dark roasted coffee beans, the golden colour of the smooth crema, fluffy milk foamed to perfection for a creamy cappuccino. At Brew Italia, we want you to experience this in every cup.
Perfetto Moka
With seven flavours, including hazelnut and chocolate, Bialetti's Perfetto Moka Ground coffee is not one to miss.
Learn More
Collapsible content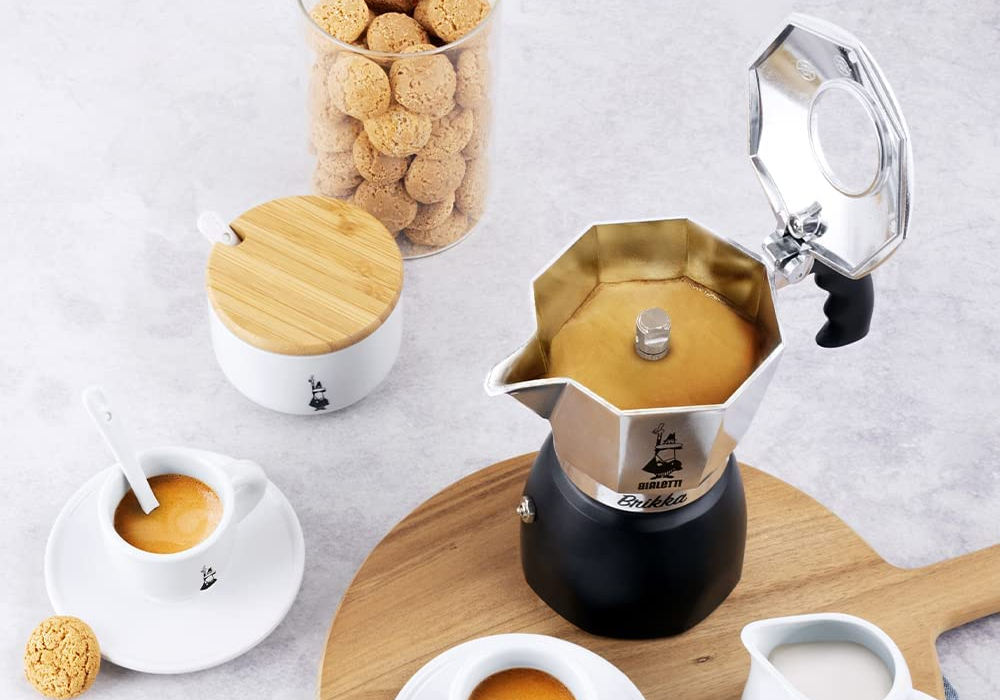 All About Italian Coffee

Italian coffee is notoriously rich and dark roasted for an intense espresso, the perfect base for any milky drink or brilliant on it's own for a instant caffeine hit.
What coffee grind size do I need for my stovetop coffee maker?

All of Bialetti's stovetop espresso makers, including the Moka Express and Venus, require a moka grind size. This is slightly coarser than espresso ground coffee, but finer than you would use for a cafetiere. If you don't own a coffee grinder, you can buy preground coffee for your moka pot online.
Do Bialetti make coffee pods?

Yes, Bialetti make a variety of coffee pods including aluminium Nespresso compatible capsules. These pods come in 4 different flavours. Order online today and save 5% when you buy in bulk.
Where is Bialetti's coffee roastery?

Bialetti source coffee from across the globe and roast it in Coccaglio, in the heart of Franciacorta. But that's not the only thing that makes Bialetti's coffee so extraordinary. With over 100 years as a staple of Italian coffee culture, they've got the selection and roasting process down to a T.

Collapsible content
Brewing on Your Stovetop

Did you know that over 90% of Italian homes own a Bialetti moka pot? With more and more people switching to stovetop coffee, can you really afford to miss out?
How to make coffee with a stovetop coffee maker

Using a stovetop coffee maker, such as the iconic Moka Express by Bialetti, is a simple and delightful way to brew a rich and flavorful cup of coffee. To begin, unscrew the Moka Express and remove the top and filter basket. Fill the lower chamber with fresh, cold water up to the safety valve. Next, place the filter basket in the lower chamber and fill it with finely ground coffee, ensuring it is evenly distributed without pressing it down. Reattach the top of the Moka Express securely and place it on a stovetop burner over medium heat. As the water heats up, it will create pressure, forcing it to pass through the coffee grounds and rise into the upper chamber as brewed coffee. Once you hear a gurgling sound, remove the Moka Express from the heat to prevent over-extraction. Give the coffee a quick stir to mix the flavors, then pour and savor the authentic Italian espresso it produces.
Bialetti Cup Sizing Explained

In Italy, the cup sizes for coffee are different from what you may be used to in the UK. For example, when you see a "2-cup" Moka Express, it doesn't mean it will produce two standard-sized UK mugs of coffee. Instead, it refers to the Italian espresso cup size, which is smaller than a typical UK mug. In Italy, an espresso cup is usually around 1.5 to 2 fluid ounces (45-60 milliliters), which is smaller compared to the larger mug sizes commonly used in the UK. Therefore, when using a 2-cup Moka Express, it will produce enough coffee for two small espresso-sized cups rather than two larger UK-sized mugs.
Can you use Bialetti coffee makers on induction stovetops?

For over 100 years, Bialetti have been designing and developing a range of stovetop espresso makers. The original, the Moka Express, is made from aluminium and features the iconic octagonal base that has made a name for itself in Italian culture. The traditional moka pot, and similar varieties like the Brikka and the Rainbow collection, are not compatible with induction stoves.

However, Bialetti have developed an entirely new range of induction-friendly coffee makers including the Venus and the Moka Induction. This collection features circular, stainless steel bases so that they are compatible with induction stovetops.