Black Stovetop Coffee Makers
Luxury coffee requires luxury design. Discover the true taste of Italy when you make fresh coffee at home with your stovetop moka pot. Take a look at Bialetti's full range of black stovetop coffee makers below.
Stylish Design

The iconic Moka Express has had an upgrade. Stylish black design available now.

100 Years

Bialetti have been designing and developing moka pots in Italy for 100 years.

Perfect Gift

The best way to spoil coffee lovers, a stovetop coffee maker will last a lifetime.
Regular price
From £20.81 GBP
Regular price
£26.00 GBP
Sale price
From £20.81 GBP
Unit price
per
About Our Black Stovetop Coffee Makers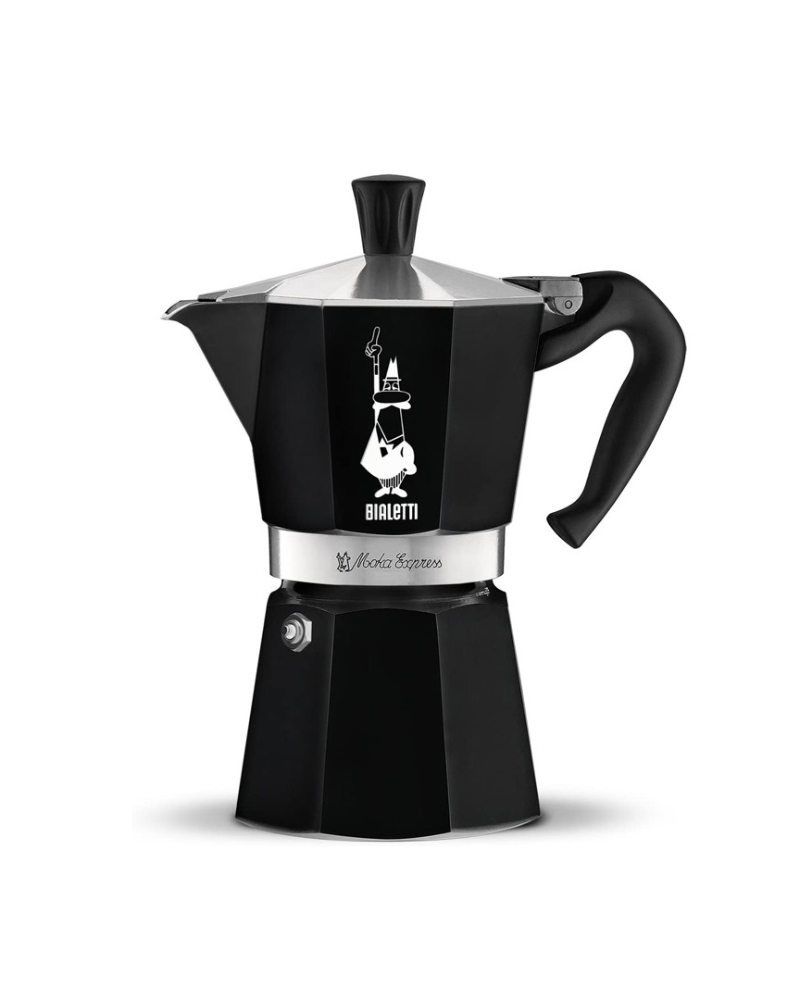 What kind of coffee do I need for a stovetop moka pot?

For a Moka Express or any stovetop coffee maker, you'll need finely ground coffee specifically made for espresso or Moka pot brewing. Here are a few key points to consider when choosing coffee for your Moka Express:

Coffee Beans: It's recommended to use whole coffee beans and grind them yourself for the freshest flavour. Look for high-quality coffee beans that are suited for espresso brewing or labelled specifically for Moka pots.

Fine Grind: The coffee for Moka pot should be ground to a fine consistency, similar to table salt or granulated sugar. This finer grind allows for proper extraction during the brewing process.

Freshness: To achieve the best flavour, use freshly roasted coffee beans and grind them just before brewing. Coffee begins to lose its freshness and flavour shortly after grinding, so it's ideal to consume it within a few weeks.

Experiment and Taste Preference: Coffee flavour profiles can vary widely, so it's worth trying different types and blends to find the ones you enjoy the most. Some people prefer a dark roast for a stronger and bolder flavour, while others may prefer a medium or light roast for a more nuanced taste.

Remember, personal taste preferences play a significant role in choosing the coffee for your Moka Express. Feel free to explore various coffee origins, blends, and roasts until you find the perfect balance and flavour that suits your palate.
Are these coffee makers compatible with my induction stove?

Some of Bialetti's stovetop coffee makers are not compatible with induction stoves as they are made of aluminium rather than stainless steel. However, Bialetti have released a range that is compatible with all hob types! Head to the website navigation to discover the full range of induction-friendly stovetop coffee pots.
Brew Italia Rewards & Referrals

Our way of showing our appreciation! Earn points every time you complete activities on our site such as signing up to our newsletter, making a purchase or celebrating a birthday! Create your account and start earning points today!

New: Brew Italia Referrals

Refer a friend and both get £5 off your first online order over £25! Get your custom referral link here.
Return Policy

We try to provide as much information as possible so you get the product that is right for you. If you don't feel the product you receive is right for you, don't worry, just send it back. All we ask is that it is unused and in the original packaging.

Click here to access your account and submit a returns request

Brew Italia are committed to providing excellent customer service and for this reason we offer a 60-day money back guarantee on unwanted and unused products. The 60 days start from the day that you order the product from Brew Italia. Please note products must be unused and in a saleable condition in the original packaging.
Let customers speak for us