Silver Stovetop Coffee Makers
A hand-crafted selection of stovetop coffee makers, suitable for gas, electric and induction hobs. Shop on Brew Italia, Bialetti's official UK partners.
100 Years

Bialetti have been designing coffee makers in Italy for 100 years.

Nonna's Way

As far as Nonna is concerned, there is no other way to drink coffee.

The Taste of Italy

Try Bialetti's Perfetto Moka ground coffee and savour the flavour of Italy.
Regular price
From £20.81 GBP
Regular price
£26.00 GBP
Sale price
From £20.81 GBP
Unit price
per
About Our Silver Stovetop Coffee Makers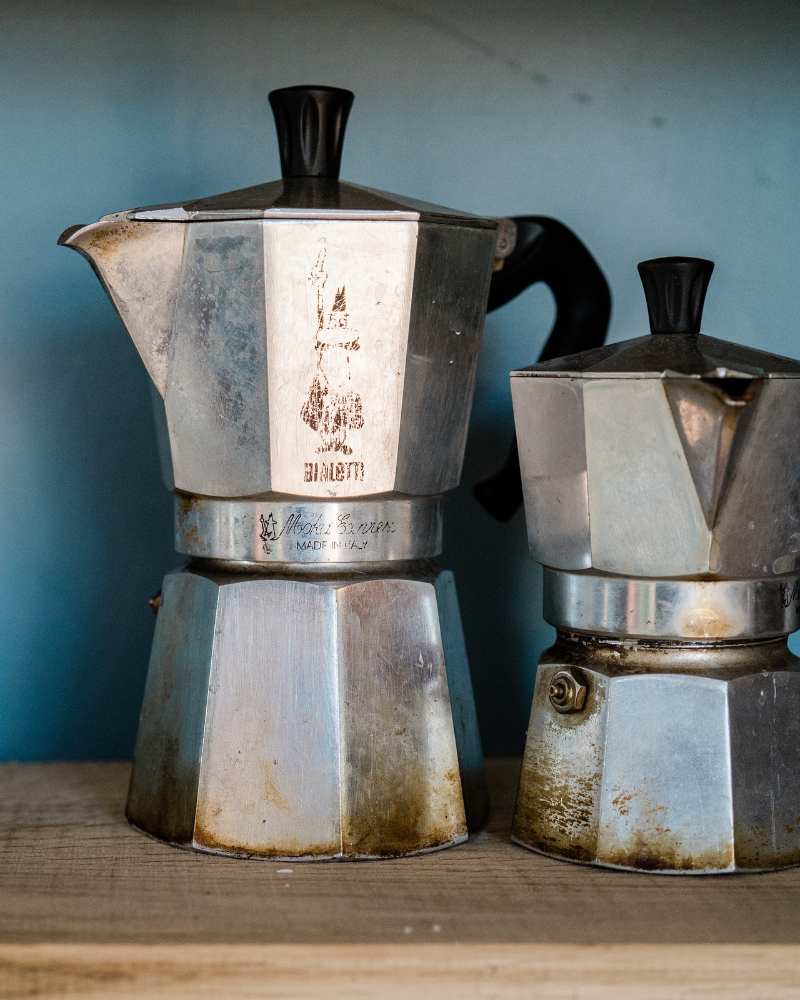 What are Bialetti's coffee makers made out of?

The world-famous Moka Express is an aluminium coffee maker designed, developed and manufactured in Italy. More recently, Bialetti have used different materials such as stainless steel to be suitable for induction stovetops. Please refer to the product page for more information about each product.
How do I make coffee with a stovetop coffee maker?

Fill the Base: Unscrew your stovetop coffee maker and remove the top and filter basket. Fill the lower chamber with fresh, cold water. Fill it up to just below the safety valve to avoid overfilling.

Add Coffee: Place the filter basket into the base. Fill it with finely ground coffee, without pressing it down. Ensure the coffee is evenly distributed and level, without any excess coffee on the edges.

Assemble: Screw the top part of your coffee maker back onto the base. Make sure it's tightened securely but not overly tight.

Heat your stovetop coffee maker: Place your moka pot on a stovetop burner over medium heat. Make sure the handle is not directly over the heat source to avoid burning yourself. Keep the lid open during the brewing process.

Brewing Process: As the water heats up, it will create pressure, forcing it to pass through the coffee grounds and rise into the upper chamber. You will hear a gurgling sound when the coffee starts to brew.

Remove from Heat: Once you hear the gurgling sound and the upper chamber is filled with coffee, remove your stovetop coffee maker from the heat source. Use an oven mitt or towel to hold the bottom part, as it may still be hot.

Enjoy: Give the coffee a quick stir to mix the flavours. Then, pour the brewed coffee into cups and savour the rich and flavourful Italian-style coffee.

Remember to clean your coffee maker after each use by disassembling it and rinsing the various parts with water. Avoid using soap, and allow all the parts to dry completely before reassembling for future use.
Brew Italia Rewards & Referrals

Our way of showing our appreciation! Earn points every time you complete activities on our site such as signing up to our newsletter, making a purchase or celebrating a birthday! Create your account and start earning points today!

New: Brew Italia Referrals

Refer a friend and both get £5 off your first online order over £25! Get your custom referral link here.
Return Policy

We try to provide as much information as possible so you get the product that is right for you. If you don't feel the product you receive is right for you, don't worry, just send it back. All we ask is that it is unused and in the original packaging.

Click here to access your account and submit a returns request

Brew Italia are committed to providing excellent customer service and for this reason we offer a 60-day money back guarantee on unwanted and unused products. The 60 days start from the day that you order the product from Brew Italia. Please note products must be unused and in a saleable condition in the original packaging.
Let customers speak for us